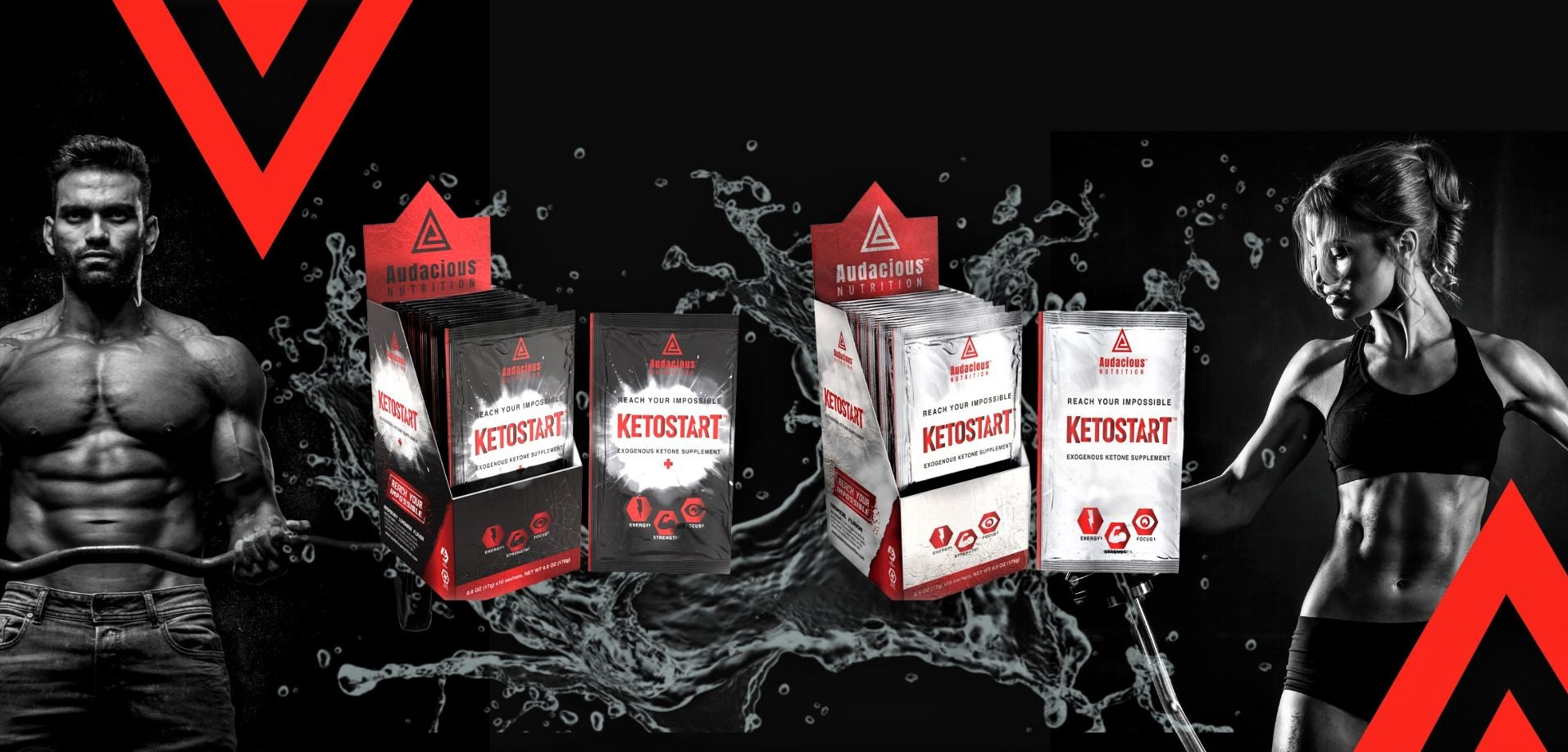 What is the difference between Ketostart and Ketostart+?
How much KetoStart do I have to take?
For most people we recommend taking 1 or 2 sachets per day. If the product is used for managing a metabolic disorder up to 3 sachet per day may be used. It is always advisable to consult with your doctor if you have any doubt regarding your medical condition.
When should I take KetoStart?
Anytime when you need extra energy. In the morning KetoStart+ might be more beneficial because of the caffeine content and during the afternoon hours KetoStart (without caffeine) might be a better option.
How often should I use Ketostart?
In general, taking 1 sachet a day will provide great benefits, you may drink it at once (e.g.before a workout) or you can dilute it in larger amount of water and sip on it all day to maintain blood ketone levels higher throughout the day providing energy and focus more consistently. Everybody is different, you need to experiment what works best for you. Depending on age, body weight, activity and stress level, how well your body is able to metabolize ketones, you may find that half sachet is enough to reach the desired benefits, but someone might want to use 2 sachets per day.
What is your return policy?
If you decide to return the unused box, please use the address:
Audacious Nutrition LLC
2780 E. Fowler Ave. #226
Tampa FL 33612
Once we receive your package, we will issue your refund.
What should I do if I don't like the taste?
The main goal when flavoring the products was to mask the intense bitterness of BHB and other unpleasant aftertastes. We understand that each one of us has different taste preferences and sensory perception. If the flavor is not the most ideal for you, you may flavor it as you like, e.g. add a few drops of lemon or mix it with your preferred beverage, so you can still enjoy the benefits of these high quality products.
What are the ingredients?
Where is my package?
Please check the tracking number you were provided in the order confirmation email. If the tracking shows it was delivered, and you still don`t find it, you may reach out to your local post office or mailman for help. If you don`t find your package for 3 days after the tracking shows it was delivered, please contact us.
How can I manage my subscription?
We have two options to access your customer portal:
1)
You can access your customer portal through your store account login. If you have not registered an account, you will need to create an account using the same email address used at checkout.
Once your account is registered, you can log in and access your customer portal by clicking on the Manage Subscriptions link. 
You can also access your account using a direct link to the customer portal. This link is normally sent in the Subscription Confirmation email when you begin a subscription and the Upcoming Order email.   
More information on managing your account: 
https://support.rechargepayments.com/hc/en-us/articles/1500000514041 
2)
Passwordless login simplifies the process of accessing the customer portal. Here are the instructions to log in using the passwordless login page: 
The maximum number of login attempts is five. If you have exceeded five failed login attempts, refresh your web browser to reset the login attempts. This requires you to re-enter your email address, obtain a new 4-digit code, and log in again. 
Note: SMS delivery for 4-digit authentication codes is only compatible with phone numbers from the United States and Canada (with a +1 country code). International phone numbers will only receive an email with their code. 
Alternatively, you can let us know what you wanted to change and we can make the changes for you.
Do you offer wholesale discount?
Yes, we offer wholesale opportunity. You may use discount code WHOLESALE at checkout to get 30% OFF (minimum purchase 10 boxes). The discount code is valid only from full price, it does not work together with any other discount codes or with subscription pricing.
You may find marketing materials through these links, feel free to use them:
https://drive.google.com/drive/u/0/folders/1v4x7q5XBznI7-yvVTttFQvzxgDTf6mei 
Why does KETOSTART contain D,L-BHB (racemic), not D-BHB?
Some might claim that D-BHB is superior, compared to D,L-BHB (or often called racemic), however, there are many benefits of L-BHB, so KETOSTART contains a mix of 1 to 1 ratio D- and L-BHB.
For example, L(S)-BHB is an important molecule as signaling, anti-inflammatory and epigenetic regulator.
L (S)-BHB-CoA is a transient intermediate in the final round of β-oxidation of fatty acids. Experiments involving infusions of labeled D(R)-BHB, S-BHB, or mixtures thereof into rats or pigs found that S-BHB is converted mostly to R-BHB; the molecular pathway for this is not known, but it may occur through conversion of S-BHB to acetyl-CoA and then production of R-BHB from acetyl-CoA. At least some of the S-BHB is eventually converted to CO2, presumably also after being metabolized to acetyl-CoA.
L (S)-BHB is metabolized much more slowly than D (R)-BHB is, so that consumption of the same amount of L (S)-BHB may result in higher and more sustained blood levels of S-BHB compared with a similar consumption of D (R)-BHB.
A recent study shows an important aspect of D,L-BHB supplementation, as L‐BHB concentrations increased extensively in the brain, heart, liver, and muscle tissues, whereas a less intense increase in D‐BHB was observed only in the heart and liver.
Another way L-BHB interacts with our immune system and may lower inflammation is by directly inhibiting the activation of the NLRP3 inflammasome, which has also been shown in cell culture studies. A recent study showed that this anti-inflammatory effect occurred in the presence of both D- and L-BHB. This can have important implications when considering that L-BHB stays in the bloodstream longer, and thus greater potential for suppressing chronic systemic and neuroinflammation. 
We also found D(R)-BHB ineffective for reducing seizure activity, while the mix of D,L-BHB was found effective, but certainly more scientific research is needed on this topic. This formulation was also found to be more GI tolerable.
Unfortunately, the currently available blood ketone meters are only able to detect D-BHB, and unable to measure L-BHB, so this can lead to a common misunderstanding. You actually have about twice as high BHB level in your blood than your blood ketone meter shows when you take a D,L mix BHB supplement, such as KETOSTART (as it is 1:1 ratio D and L BHB).
Read more on this topic here.
Why my blood ketone level is not higher?
The Audacious Nutrition products contain 50%-50% D and L BHB and the currently available ketone meters are only able to detect D BHB, so only half of the ketones are registering on the ketone meters. It is also possible that your body is using up the ketones faster as it may be depleted of energy. 
Is one box with 10 sachets a 10 day supply?
1 box contains 10 sachets. Some people will use only half sachet per day because this is a highly potent formulation, some people will use 1-2 per day when using the product to manage a metabolic disorder. It is really up to an individual to experiment what is the most effective dose depending on the desired outcome.
How can I sign up to become an affiliate?
Why is it so expensive?
Considering that many other products have 1g, 3 g or just 5g BHB /serving and sometimes a sachet costs $8-9, Ketostart is reasonably priced with 10g BHB/serving for $5. If you subscribe a sachet would only cost $4 ($40/1 box/10 sachets). You may use the wholesale discount code WHOLESALE at checkout for 30% OFF (minimum purchase 10 boxes) to get 1 sachet of KETOSTART for only $3.5.
What is the maximum safe dose of BHB?
How does Audacious Nutrition give back?
When you buy KETOSTART, with every purchase you support not only your own health, but also some great causes! In 2022 Audacious Nutrition donated to numerous projects and organizations, click here to find out more about them!
Who recommends Ketostart?
WHAT IS KETO?
KETOGENIC DIETS VERSUS EXOGENOUS KETONES
HOW TO CHOOSE AN EXOGENOUS KETONE SUPPLEMENT?
WHAT ARE THE BENEFITS OF CONSUMING ELECTROLYTES WITH EXOGENOUS KETONES?
WHY CAFFEINE AND KETONES TOGETHER?
WHAT ARE THE BENEFITS AND APPLICATIONS OF EXOGENOUS KETONE SUPPLEMENTS?